Do you have trouble remembering what you're meant to be doing? Are you one of those people who, when trying to just look one small fact up on Wikipedia, emerges 2 hours later with a dazed look because of all the irrelevant new knowledge you accidentally gained?
It's such a common problem xkcd even wrote a comic about it: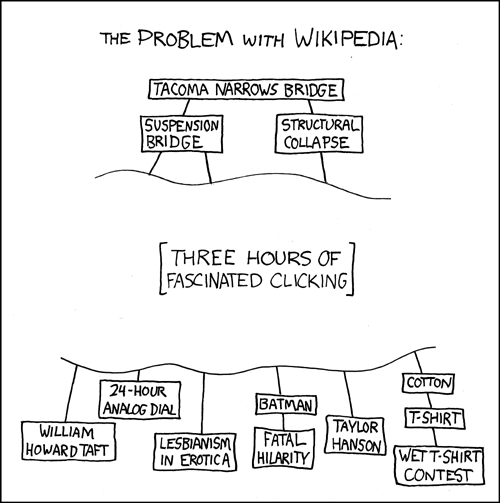 The topic can be funny, but if you are actually trying to get things done it's also a big problem. We've previously covered using Isolator and Menu Eclipse to hide distractions on your screen, and using the Freedom preference pane to block internet access.
Those two techniques try to take away irrelevant things that may distract you. Here's another very simple technique that works on the opposite principle - reminding you of what you want to focus on: use Stickies. Here's a picture of what always sits near the top right of my screen:
Stickies is a program that comes with OS X, you can find it in the /Applications directory. It's essentially just an on-screen version of sticky notes, but Stickies have some useful attributes that the real thing don't have:

Transparency - You can make the sticky note partially transparent, so you can still see anything on the screen under it.
Stay on top - You can set the note so it'll almost always stay on top of all the other windows. This means you can always see it.
Editable - You can update what's on the note to always be relevant!
I find having the sticky note there at the corner of my screen near the clock - which I glance at frequently - helps me to remember what I'm trying to get done. When I've finished writing this article, I'll just click on the note to edit it so it says "replying to email" and it'll help me stay on track with that. I try to keep it updated all day with whatever I'm working on.
Do you have tricks you use to keep yourself on track? Please share them in the comments!
- Ricky Buchanan